---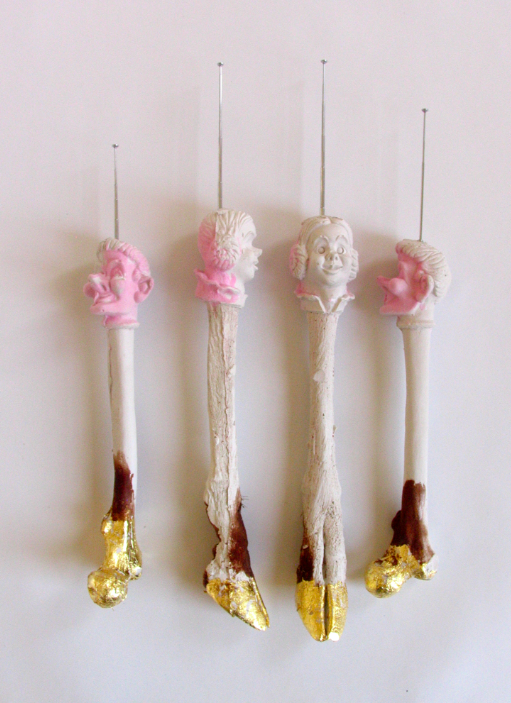 Fundraising 1.01
Stephan Dillemuth, tit for tat, 2017
Plaster, telescope antenna, fake gold leaf, flocking
Kasperle: 42 cm (94 cm with antenna pulled out)
Gretel: 50 cm (100 cm with antenna pulled out)
Each edition 5 + 5 A.P. (each edition is sold separately)
This edition features Kasperle and Gretel, two traditional characters of popular German puppet shows. Kasperle ends here with a human femur bone and Gretel with a deer leg. Complete with an embedded antenna, these editions reference the extravagant communication objects designed for our everyday lives, that tend to get smaller and smaller, then bigger and bigger, more visible, again. Our everyday chit chat is like tit for tat, from the puppet show to the stage of mobile communication, with childhood patterns continuing to inform our adult behaviour.
---
1200 € + shipping To order this edition, please contact editions@mayrevue.com
---
---
Fundraising 1.02
Peter Fischli, Logo Painting, 2017
Paint on canvas, 30 x 30 cm
Edition of 12 + 2 A.P. ( + insert in May 18)
This edition is a handmade painting based on a refused project artist Peter Fischli proposed two years ago for an in-situ work at the Frankfurt airport. The project was designed entirely on the fact that it will be refused, motivated by the idea that it would be impossible for him to do an artwork for this context. The idea was to build a hiking trail all around the airport accompanied by a walking guide written in a poor promotional style and a logo that could have been used for a t-shirt and a hat. The walking guide will be printed in the next issue of May as an insert and will complete the actual painting.
---
800 € + shipping To order this edition, please contact editions@mayrevue.com
---