---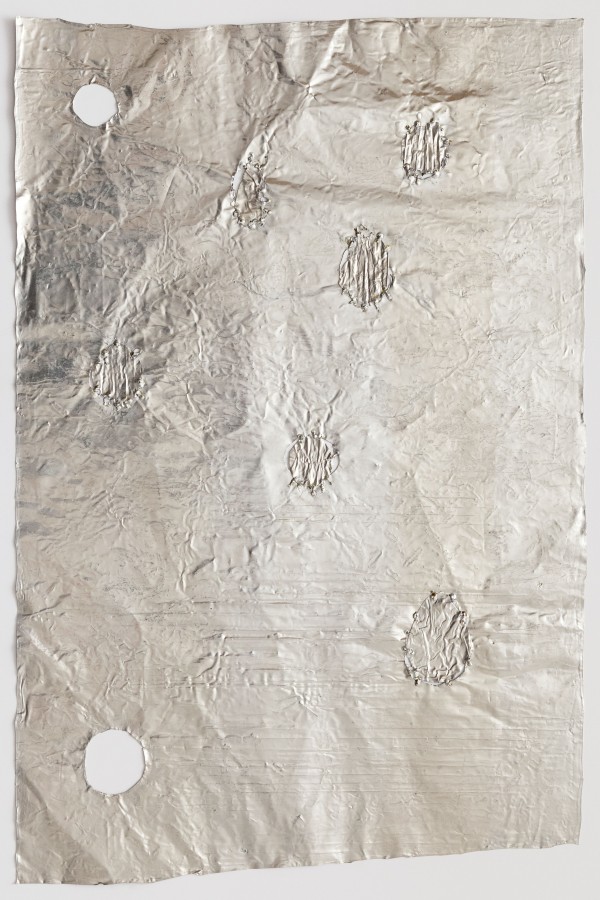 Fundraising 1.13
Josef Strau, No Title, 2017
Tin sheet with solder wire and inkjet poster
Tin sheet: approx. 81 to 50 cm (roughly cut), each unique
Poster: 42 x 59 cm
Edition of 7 + 2 A.P., signed on the back
This edition is handmade by the artist, through manipulating his sheet of tin with his hands tools and soldering equipment. The sheets are cut through with occasional holes, that he then re stitches together. Accompanying the work is a manual on its use in the form of a text poster in the artists new signature tear shaped design.
Relating to the artist's eternal incompatibility of combining text and image/object, the tin was purchased in a Mexican folk art store for the making of tin icons which distinguish between the forbidden image of sensual worldly life and the parts cut out that expose the holy objects and bodies represented in the traditional icon. But the artist goes one step back and closes the holes of the tin back up to make any gaze towards even the potentially holy image impossible, in an attempt to reinvestigate the motivations of iconoclasm. In his last edition the artist created a veil for May Revue; possibly used by the collector to cover the face, this second and new edition is to create a kind of veil for our misuse of images, possibly to cover secular images or better any images in the collectors environment in order not to just protect the image but more so the gaze of the observer.
---
1800 € + shipping To order this edition, please contact editions@mayrevue.com
---
---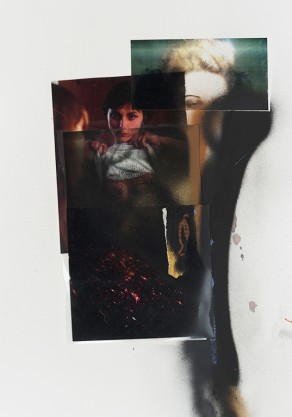 Fundraising 1.12
Paulina Olowska, Seduction, 2017
Giclée print
29,7 x 45 cm
Edition of 25 + 5 A.P., signed and numbered
This edition is a giclée print of a woman lifting her white T-shirt to expose her breasts. The image is taken from a film still from Every Man for Himself by Jean-Luc Godard, and a photography of Ulrike Ottinger, Absinth (Tabea Blumenschein). The idea of this work is to reveal how women show their breasts as a method to get what they want. Showing one's breasts can be seen as an act of prostitution and a shortcut for the female artist. Could we say that art made by women is a form of prostitution? This woman in the photograph, for me, resembles the young Alina Szapocznikow. I was thinking of Alina while creating a collage for her first major survey of work in the UK at the Hepworth Wakefield gallery. The collage relates to my search for the active female muse, a punk. It is not only the muse who inspires, but who takes the lead and controls it—sometimes as a last resort by lifting her shirt. Women like Ulrike Ottinger, Emmy Hennings, Pauline Boty, or Alina Szapocznikow become, for me, role models in a powerful position for maneuvering through male society using forms of seduction as one of the tools to achieve what they want. Seduction is a way of storytelling.
---
800 € + shipping To order this edition, please contact editions@mayrevue.com
---